17.03.23 - Daniels Faculty installation lighting up Toronto's waterfront for Lumière exhibition
Aeolian Soundscape, a large-scale interactive "harp" conceived and erected by a team from the Daniels Faculty, is among the 16 installations currently animating Toronto's lakeside Trillium Park as part of Ontario Place's Lumière: The Art of Light.
The wavy timber-frame structure, which takes on cool neon tones at night, was designed by John Nguyen and Nicholas Hoban, who oversee the Acoustics Research Group, Robotics Lab and Digital Fabrication Facilities at the Faculty with Brady Peters.
Nguyen, Hoban, Peters and Rahul Sehijpaul served as the installation's project leads.
"Our exhibit," says the team, "leverages the windy landscape of Ontario Place to create an interactive musical harp that approaches the concept of an aeolian harp from a renewed perspective through the use of a reciprocal frame structure."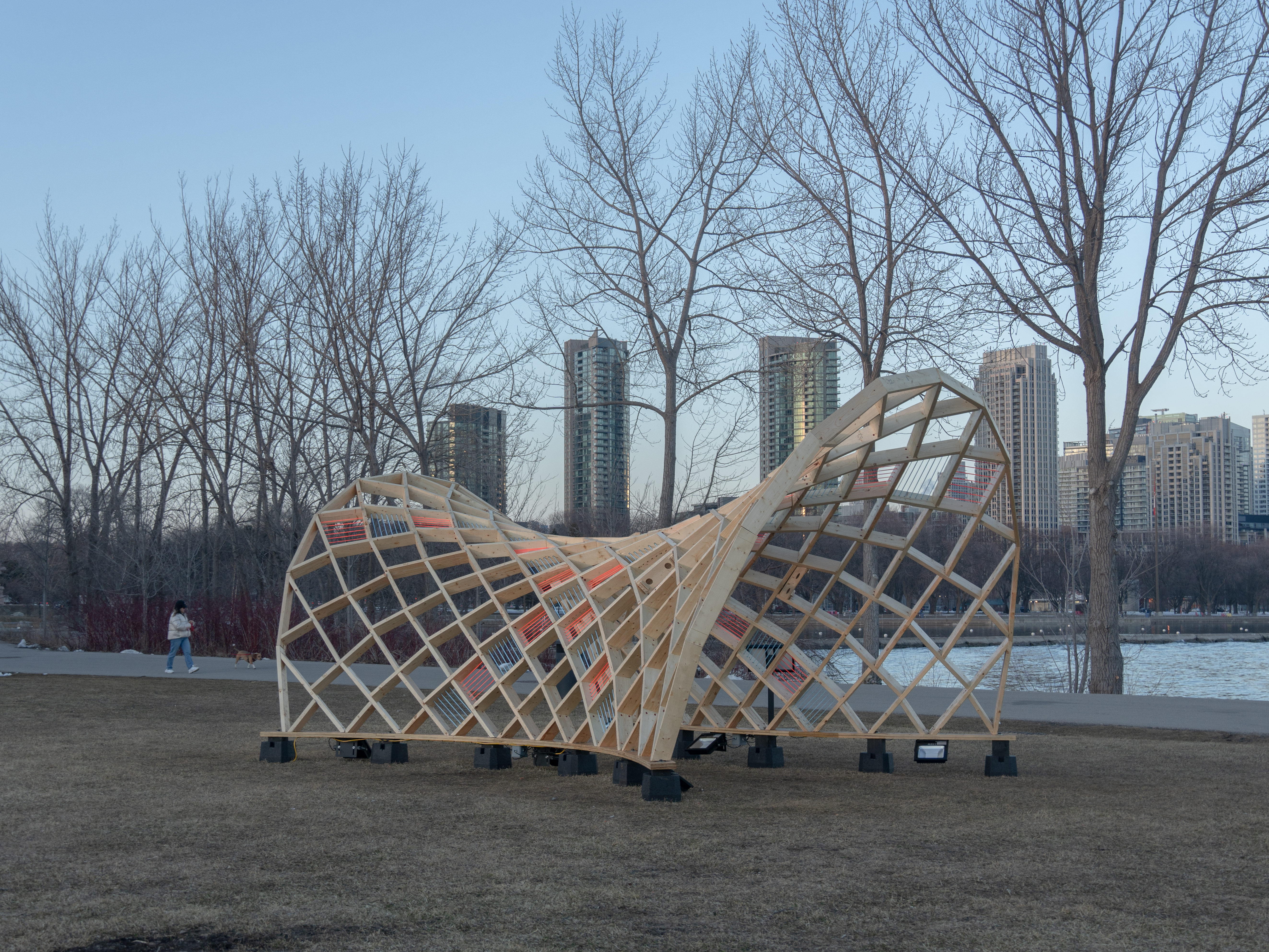 The aeolian harp—which gets its name from the Greek god of the wind, Aeolus, as only the wind can play the instrument—produces a harmonious sound similar to that of chanting. It is believed that the aeolian harp dates back at least to the sixth century BC. The earliest written reference to aeolian harps appeared in Phonurgia nova, which was published by Athanasius Kircher in 1673. By the Romantic Era, they were commonplace in households.
To create Aeolian Soundscape, the Daniels Faculty team employed a lamella structure—a spatial system consisting of segments called lamellae. "By arranging members in a grid pattern," the members note, "long freeform spans can be achieved from relatively short members, and complex forms from geometrically simple components. This approach is extremely economical as it contains many uniform elements, leading to a structure that is less wasteful and easily assembled."
In addition, a number of lamellae members were painted with UV paint and adorned with fluorescent nylon strings, then outfitted with black LED lighting "to accentuate the nighttime experience."
Visitors of all ages, the team members say, "can engage with our installation from a visual perspective," taking in the "technical expertise in geometrical fabrication [on display]," as well as one in which the "auditory senses are activated through winds and breezes that highlight the local soundscape of Ontario Place."
The fabrication and assembly team for Aeolian Soundscape included Nermine Hassanin, Cameron Manore, Renee Powell-Hines, Meera Thomas, Liam Cassano, Selina Al Madanat, Elham Khataei, Zhenxiao Yang, Zachary Mollica and Paul Kozak.
The project was supported by the Daniels Faculty and by the Mass Timber Institute at the University of Toronto.
Formerly the Winter Light Exhibition, Lumière: The Art of Light runs until May 7. Newly relocated to Trillium Park at Ontario Place, the free outdoor light exhibition is open seven days a week, from dusk to 11:00 p.m., with a bonfire on Fridays and Saturdays.
Watch a video about the installation's fabrication and installation below:
Photos and video by Liam Cassano of 6IX Films