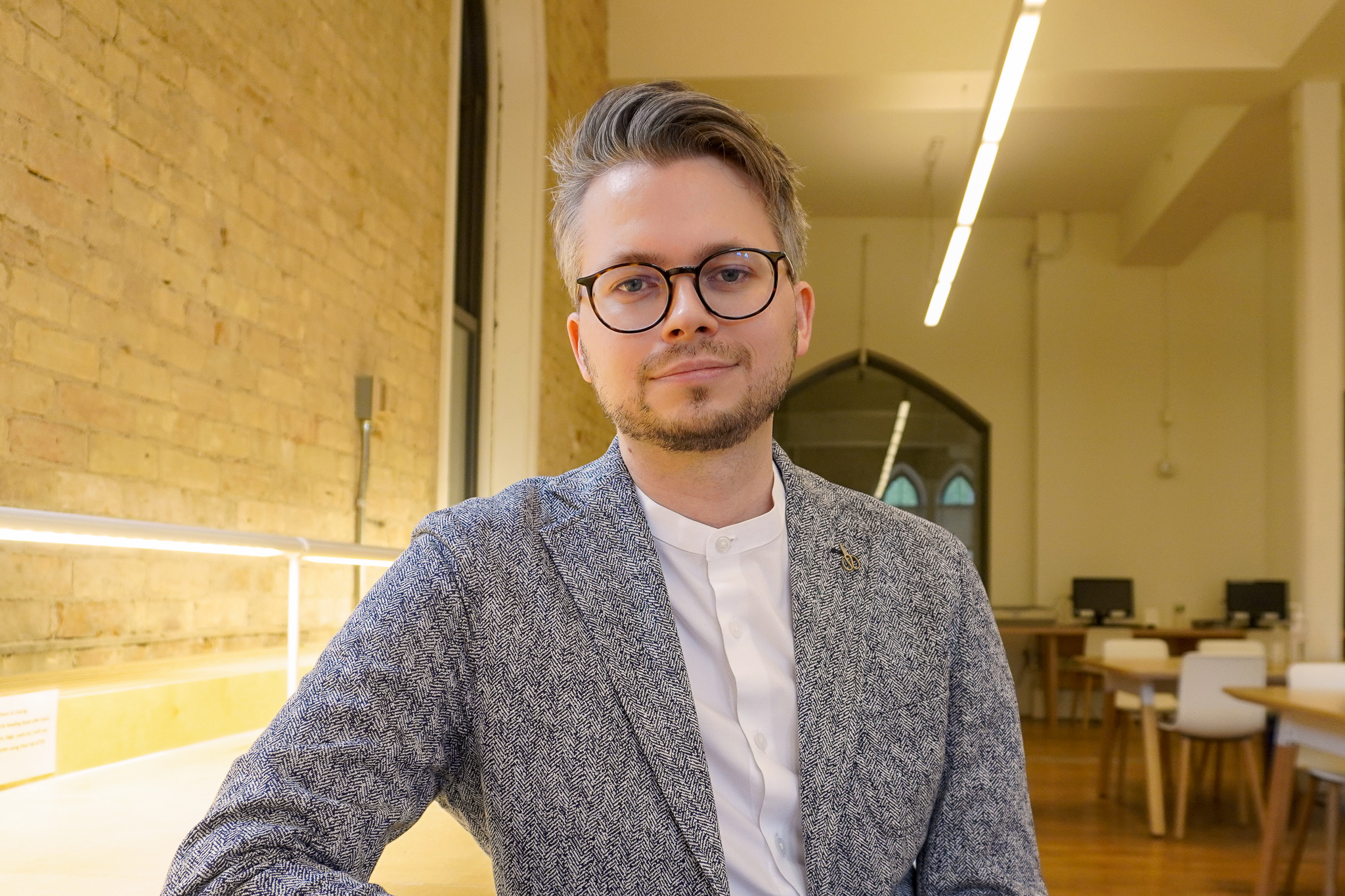 20.03.23 - "Public space isn't 'public' for everyone": Emerging Architect Fellow Lukas Pauer on his research, the power of built objects, and his time at Daniels so far
The relationship between power and space. The ongoing reality of imperial-colonial expansion in a city such as Montreal. A planned exhibition decoding how one Eastern European nation uses built objects to dominate its neighbours. These are just a few of the topics and projects that Lukas Pauer has been pursuing since joining the Daniels Faculty this fall as an inaugural 2022-2024 Emerging Architect Fellow.
The two-year Emerging Architect Fellowship Award, a non-tenure appointment at the rank of Assistant Professor, was established by the Faculty to offer early-career architects an opportunity to teach in a supportive environment as well as the resources to develop focused research. 
In the case of Pauer, an architect and urbanist whose Vertical Geopolitics Lab, which he founded, is now based at the Faculty, that research is underpinned by a desire to expose how the built environment denies or entrenches power, giving people more political agency in the process.
Recently, the graduate of Harvard University and ETH Zurich and onetime employee of Herzog & de Meuron spoke about the specific nature of his research work, his interdisciplinary approach to it, and his experiences at the Faculty—both inside and outside of the classroom—since arriving. 
What area of research will you be exploring over the duration of your Emerging Architect Fellowship?
The focus of my work is on exposing how material objects and imaginaries of power interrelate and co-construct each other in the built environment. In my recent academic practice, I have critically examined built objects as evidence of the projection of power, authority and influence of politically organized communities. Specifically, my doctoral dissertation, entitled Staging Facts on the Ground, has critically studied how imperial-colonial expansion has been performed architecturally throughout history. There is a lack of general understanding of imperial-colonial violence as a pervasive and ongoing reality around the world. To not recognize the workings of this violence around us is a risk.
Although recent scholarship alludes to a relationship between space and power, as well as the various ways in which power has configured space, many people seeking to participate in the political life of their community still lack the vocabulary to describe how authority over people and land is manifested through seemingly minor or banal practices of the everyday.
A lack of understanding how any object may be instrumentalized for political purposes limits people's ability and responsibility to contribute to political decisions about the built environment. Throughout my career, I have maintained a mindset and aptitude for working within an interdisciplinary framework. This approach has allowed me to research beyond my immediate field of training and to teach across disciplines.
The fellowships also involve teaching both undergraduate and graduate students. What courses have you been teaching and what has the experience been like?
I have specialized in research-based teaching, which is in part why this fellowship opportunity made a lot of sense to me. As part of my appointment here at Daniels, I am teaching three courses. One of them is more analytical in the history/theory of the built environment. The other two form a year-long course sequence that is more projective in the design of the built environment.
In our undergraduate architectural studies program, I teach a near-300-student core lecture course in which the understanding of public space as "public" only to those who are politically represented and organized is central to it. In our graduate architecture program, I supervise a group of final-year students in a year-long thesis research studio course sequence supporting investigations on space and power in an effort to expose, challenge and reconstitute the pervasive and ongoing reality of imperial-colonial expansion.
What have been some of the highlights of your time at the Faculty to date?
I have been pursuing a career of highly integrated professional practice, research and teaching. Since my arrival here, it has been a pleasure to see the Faculty appreciate the value this integration can add to a school of architecture and beyond. Having somewhat grown out of or you could say "spinned off" from my fellowship project, I have been very excited about an educational development project I am currently working on together with Jeannie Kim and Jewel Amoah. This project seeks to establish a working group to identify and further develop didactic-pedagogical approaches to reading and writing—or seeing and drawing—power in the built environment.
Then in the context of my lecture course and in line with the overarching hypothesis of this course, which is that public space is not actually "public" for everyone, I just organized a self-guided field trip around Toronto that will help my students see and gain a better understanding of how particular people or individuals have often not been considered enough in the making of a city and its public spaces.
Also, in the context of my studio course, and in partnership with local contacts including staff at the Canadian Centre for Architecture, I just organized a travel seminar to Montreal, where my students will be able to critically engage with the pervasive and ongoing reality of imperial-colonial expansion in the case of Montreal. These are just a few examples of moments that I have been excited about. There would be many to list.
Your fellowship project will ultimately be exhibited and disseminated within and beyond Daniels. Any hints on what it might look like or involve?
I am currently working on a research-based exhibition project that seeks to decode and deconstruct a compendium of built objects that an Eastern European country has instrumentalized in recent history, and still today, to project power over its so-called Near Abroad. The exhibition will also be accompanied by a digital/online platform for sovereignty dispute visualization. The underlying hypothesis is that built objects of the everyday can be instrumentalized to convey subversive messages of power.
Still, the prevailing conception is that geopolitics and international relations are shaped by and conducted either through diplomatic missions and military forces on the ground or through written policy documents and cartographic drawings. Through the paradigmatic case of how this Eastern European country is presently projecting power, this exhibition project seeks to recentre the study of how sovereignty is acquired and disputed as a practice-based matter of space and power in the built environment. Stay tuned.