FOR IMMEDIATE RELEASE 
October 12, 2022 
Daniels Faculty announces members of its First Peoples Leadership Advisory Group; Douglas Cardinal joins Faculty as Decanal Advisor on Indigenous Knowledge
TORONTO—The John H. Daniels Faculty of Architecture, Landscape, and Design at the University of Toronto is excited to announce the members of its First Peoples Leadership Advisory Group, created in close consultation with Indigenous stakeholders both within and outside the University to diversify the range of Indigenous knowledge at the Faculty and to increase the availability of the Advisors to students, faculty and staff. 
 
The new Advisors—Elder and Traditional Teacher Dorothy Peters, educator and advocate Amos Key Jr., and artist and community planner Trina Moyan—were brought together after an open call for members this past summer and a series of consultations with Indigenous members of the Faculty and University. 
The Advisors will provide regular and ongoing guidance to members of the Faculty, including its academic and administrative leadership teams, to facilitate a range of important goals, including greater incorporation of Indigenous knowledge into coursework and research activities, connecting students and faculty with Indigenous peoples and communities in productive and meaningful ways, and supporting the next generation of students through focused outreach and planning.   
Elder Peters, Mr. Key, and Ms. Moyan will maintain regular office hours in Room 220 of the Daniels Building at 1 Spadina Crescent, providing both in-person and online advisory time for Indigenous students at U of T as well as all members of the Daniels Faculty.   
In addition to the on-site Advisory Group, acclaimed architect Douglas Cardinal, who served as the Daniels Faculty's Frank O. Gehry Chair in 2020-2021, will join the Faculty as Decanal Advisor on Indigenous Knowledge. In this role, Dr. Cardinal will work closely with Dean Juan Du and the Faculty's leadership team on the strategic development of Indigenous knowledge and research, its integration with the school's curriculum, its dissemination through courses and public programs, and the ongoing recruitment of Indigenous faculty, students and staff. 
Dr. Cardinal's appointment, along with those of the Advisory Group members, significantly enhances Indigenous presence and capacity at the Faculty, as well as increases its ability to answer the Calls to Action articulated by the University's Truth and Reconciliation Commission (TRC) Steering Committee.  
"I am very pleased by this appointment," said Dr. Cardinal upon accepting the role of Decanal Advisor on Indigenous Knowledge. "Although I do not speak on behalf of all Indigenous people, I do look forward to contributing my perspective and to working with the Dean and the Faculty on enhancing the dissemination of Indigenous teachings."  
Added Dean Du: "We have made great strides in terms of promoting and integrating Indigenous knowledge over the past few years, but there is much more work to be done. Elder Peters, Amos, Trina and Douglas each brings a wealth of educational, professional and lived experience to our school, and I look forward to continued learnings from them. Under their guidance, our commitment as a Faculty to pursuing Truth and Reconciliation and to addressing the Calls to Action will only be strengthened in the years and decades to come."
Elder Dorothy Peters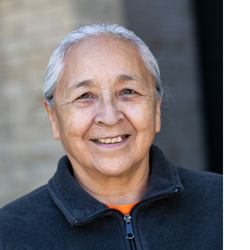 A Traditional Teacher and Community Nookmis, Elder Peters is a member of Jiima'aaganing (Seine River) First Nation. Throughout her career, she has worked in various consultative capacities with multiple Indigenous organizations in Toronto, including Aboriginal Legal Services and Anduhyaun Inc., and she has previously supported Indigenous students at the University of Toronto through First Nations House, where she served until recently as an Elder-in-Residence. A residential school survivor, Elder Peters is regularly called upon to share her stories, teachings and cultural expertise at events throughout the city.
Amos Key Jr.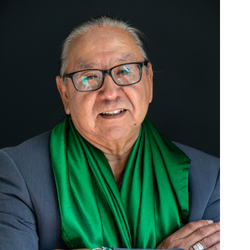 A member of the Mohawk Nation, Key is an educator, advocate and Traditional Faith Keeper of the Longhouse at Six Nations of the Grand River Territory. The long-time Director of First Nations Language at Woodland Cultural Centre, where he co-founded the Gaweni:yo Cayuga/Mohawk Immersion School System, Key is a leading figure in the ongoing language revitalization movement among First Nations people in Canada. He has also taught as an Assistant Professor at the University of Toronto's Centre for Indigenous Studies, and was the inaugural Vice-Provost, Indigenous at Brock University in St. Catharines. 
Trina Moyan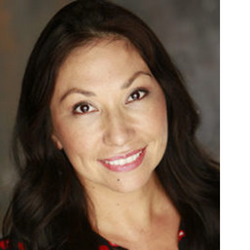 Artist and activist Moyan is nehiyaw iskwew (Plains Cree) from the Frog Lake First Nation in Alberta. She began her career as a writer and producer for the Aboriginal Peoples Television Network (APTN) and co-produced and directed the National Aboriginal Achievement Awards (now Indspire) for CBC Television. Moyan is a co-founder of Toronto-based Bell & Bernard, a First Nations consulting firm dedicated to including the histories and current realities of Indigenous peoples within urban planning projects, and has spoken widely on Indigenous inclusion and empowerment. Moyan is also a muralist, a traditional dancer and a University of Toronto alumna.
Douglas Cardinal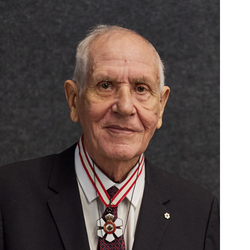 One of the world's most prominent Indigenous architects, Dr. Cardinal is known for his lifelong commitment to sustainable design and for such landmark buildings as the Canadian Museum of History. Born in Calgary to a father of Blackfoot heritage and a German/Métis mother, he served as the Daniels Faculty's Frank O. Gehry Chair in 2020-2021 and was awarded an Honorary Doctor of Laws degree by the University of Toronto in June 2022. In 2018, Dr. Cardinal led a team of Indigenous architects and designers who represented Canada at the Venice Architecture Biennale, and he continues to design residential, institutional and industrial buildings. His role as Decanal Advisor on Indigenous Knowledge at the Daniels Faculty continues his longtime advocacy for the dignity and advancement of Indigenous Peoples. 
For more information on the inaugural First Peoples Leadership Advisory Group or the Daniels Faculty's numerous Indigenous-focused initiatives, contact: 
Danny Sinopoli, Lead Communications and Media Relations Officer 
John H. Daniels Faculty of Architecture, Landscape, and Design 
University of Toronto 
danny.sinopoli@daniels.utoronto.ca